Since the concept of the metaverse was created, there have been countless projects trying to become the metaverse of all metaverses. Big companies like Meta (formerly Facebook) are pouring billions of dollars into creating the Metaverse, but it's still a work in progress.
At the same time, various cryptocurrency-based metaverses are emerging, but we have yet to find a solid user base where cryptocurrency prices are falling. Additionally, the majority of projects are not trying to integrate the latest technologies, such as VR games, into their ecosystem.
Well, a new player in town is trying to bridge the gap between Web 3 and the real world by establishing a gaming village in France.
meet undercity.
What is Undercity?
Undercity brings a revolutionary approach to bringing the Web 3 into the real world by creating the first gaming society based on blockchain technology.
This project is the first to bridge the gap between the digital and physical worlds by creating the world's first Gamer Village, consisting of a 10,000 m2 facility that allows gamers to come and play in the gaming ecosystem and metaverse. It will be a bridge.
Undercity hosts events, builds projects, and grows your village community. It is designed to be a space where blockchain players can come together and rethink the whole concept of Web3.
The overall concept of Undercity is built around three main areas. Communities, ecosystems, games.
The team behind Undercity believes the future of blockchain will come through decentralized communities with physical locations where Web3 citizens can meet and interact physically and virtually.
The Undercity ecosystem consists of three main projects.
Undercity1 – Real World Game Village
undercity battle royale game
Under.tv platform
What's inside the Gaming Village?
Undercity1 in France is the first web3 village to welcome gamers, roleplayers and cosplayers. In addition, it will be the first act-paying gaming village in Europe. Built to be a dream destination for video gamers around the world.
The facility consists of 10,000 m2 of space with separate areas for specific activities such as:
virtual reality room
streaming room
game room
cinema
Activity area
bar
restaurant
hotel
wellness area
The entire ecosystem comes together to give gamers everything they need to work, play and live in the places of their dreams.
Virtual reality rooms are places where gamers can immerse themselves in their favorite virtual universes. High-tech VR rooms allow users to access the metaverse and play their favorite games.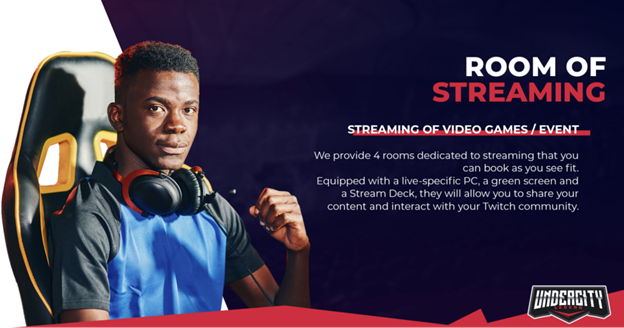 Streaming rooms can be reserved in advance for all members to stream their favorite games. Undercity offers her four rooms fully equipped for streaming purposes, complete with web3 video game streaming equipment.
Additionally, Undercity includes a retro game room filled with old-fashioned game consoles and arcade machines. It also includes a modern game room with the latest generation consoles for gamers.
The rest of the facility, including restaurants, activity areas and wellness centers, are designed for lifestyle activities. Activities in these spaces include ax throwing, massage rooms, wellness areas, container cyberpunk pools, and more.
The great thing about Undercity is that users can access the game village without actually being there. The team plans to recreate the entire game village in the Metaverse, making the village accessible to users around the world.
Essentially, Undercity aims to create a decentralized community by blending the Web3 gaming space with a real-world gaming village.
First blockchain-based role-playing FPS game
Undercity's first game product is a blockchain-based virtual reality role-playing first-person shooter metaverse. In a battle royale style similar to Players Unknown Battle Grounds, players must fight against friends to survive to the end of the game and earn rewards.
In the game, the player can collect weapons, upgrade levels, complete missions, and earn NFTs and tokens along his journey.
Undercity intends games to become one of the cornerstones of the blockchain-based esports sector, spawning an entirely new genre in a highly competitive industry.
The team has released a gameplay demo that you can watch.
In addition to blockchain-based shooters, Undercity also plans to release a platform called Under.tv. Details of this feature have yet to be revealed, but it appears to be a highly sophisticated dedicated streaming platform for Game Village members.
Pre-sale scheduled for February
To bring the game village to life, Undercity is pre-selling its native token, UND. A total of 57 million of his UND tokens will be put up for sale in the pre-sale, increasing in price in 5 stages.
In the first stage, we will sell tokens at a price of $0.35. After 5.7 million UND tokens are sold, the price will rise to $0.43 in Stage 2. After that, the pre-sale price will continue to increase until Stage 5, where the token price will be $0.87.

Undercity is dedicated to ensuring that UND is more than just a financial token. Instead, they plan for UND to be a utility token tied to the entire game village. Tokens are used for:
Payment for admission to Undercity – one-time payment.
Payment for rental of long-term and short-term accommodation.
Payment for premium games.
Pay for Undercity activities with a 5% discount.
Paying for items in shops, restaurants, and bards.
Rumination of game developers, creators and actors.
Payment for game setup and streaming room rental.
Overall, Undercity will take the gaming industry in new directions by combining a decentralized Web3 world with real-world facilities, allowing gamers around the world to meet, interact, and plan the future direction of Web3 games. to
Access the Undercity Presale Now
Disclaimer: This is a paid release. Statements, opinions and opinions expressed in this column are those of the content provider and do not necessarily represent those of his NewsBTC. NewsBTC does not guarantee the accuracy or timeliness of the information available in such content. Do your research and invest at your own risk.