Xiaomi has released its quarterly financial analysis, which shows a significant decline in its figures. Revenue for the July-September 2022 period was 70.5 billion yuan, just under $10 billion. Of these, 50.5% were from overseas markets.
Revenue decreased by 10% compared to last year. Net profit fell further, down 59% year-on-year to 2.1 billion yuan ($294 million). However, this is due to his 829 million yuan ($116 million) investment in the newly established EV business and other projects that should bear fruit in the future.
The company also revealed that its investment in R&D has increased by 25% compared to a year ago, with 48% of its staff actually working in the R&D department.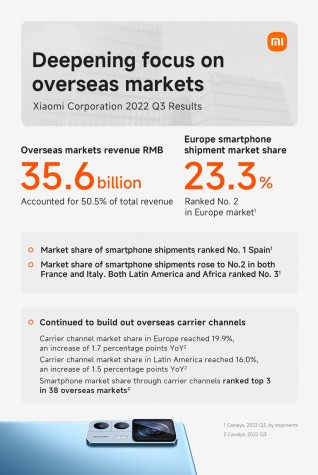 Xiaomi Q3 2022 financial results
Xiaomi users in the MIUI universe reached 564 million, 78.1 million more than the same period last year, an increase of 16% year-on-year. Interestingly, there are only 141 million (about 25%) of him in China.
The company sold 40.5 million smartphones in the third quarter of 2022, maintaining its number three spot in the world, although shipments fell 7.8% and revenue fell 11.1% for the year. Xiaomi cited "global macroeconomic headwinds" as one of the reasons, but also stepped up promotional activities in overseas markets.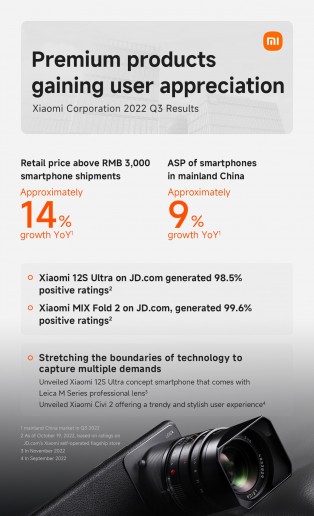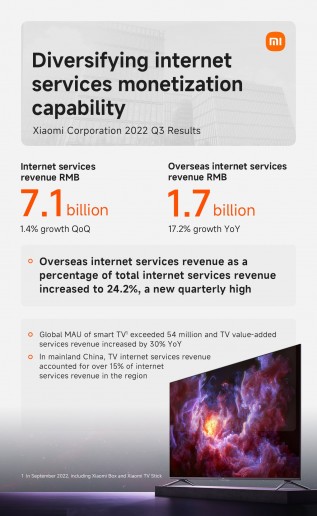 Xiaomi Q3 2022 financial results
Xiaomi came in second in the European market, first in Spain, and second in Italy and France. Looking at the wider region, Xiaomi remains in third place in Latin America and Africa.
Chinese smartphone companies have struggled to adapt to European customers and their preferences, who buy smartphones through carriers rather than going to third-party electronics retailers. Xiaomi has revealed that it has pushed 19.9% ​​of its mobile phones to carrier channels. That's 1.7% more for him than he was 12 months ago. Similarly, Latin America reached 16% of carrier-mediated calls, an increase of 1.5%.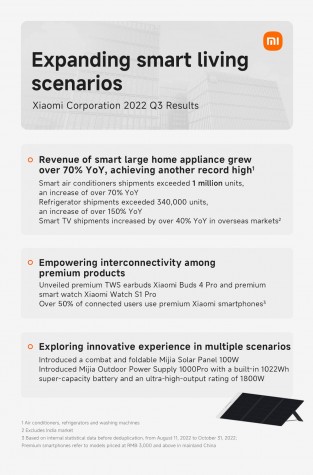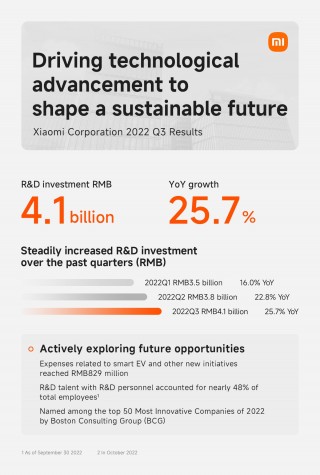 Xiaomi Q3 2022 financial results
An official press release says that Xiaomi remains solid and demonstrates a resilient business model. Despite external headwinds and macroeconomic uncertainty, the company will continue to push for the next quarter as well, just in time for the holiday season.