Apple has designed several types of bands for the Apple Watch, which it updates on a regular basis, debuting new band options during fall and spring media events, as well as other times throughout the year.
Apple offers an Apple Watch Studio feature that allows most bands to be paired with most Apple Watch casing options so specific Apple Watch band and casing pairings are no longer required when making a purchase. Available Series 8 bands include the Sport Band, Sport Loop, Milanese Loop, Modern Buckle, Leather Link, Solo Loop, and Braided Solo Loop.
Solo Loop
The Solo Loop is similar to the Sport Band, but it's the first Apple Watch to feature a slip-on design with no buckle or clasping mechanism. It's made from a stretchy liquid silicone rubber that can stretch to fit over the hand and then collapse to fit tightly on the wrist.
Apple says that it's ultra-comfortable because there are no overlapping parts, and it's simple to slip on and off. It's swim-proof, sweat-proof, and treated with UV for a silky finish. The Solo Loop is priced at $49.
Braided Solo Loop
Like the Solo Loop, the Braided Solo Loop is a newer Apple Watch band designed without a buckle or clasp of any kind. It's made from a stretchable recycled yarn interwoven with silicone threads so it can fit over the hand before wrapping around the wrist.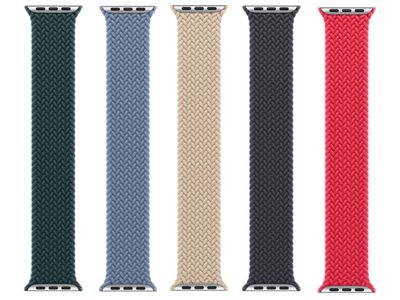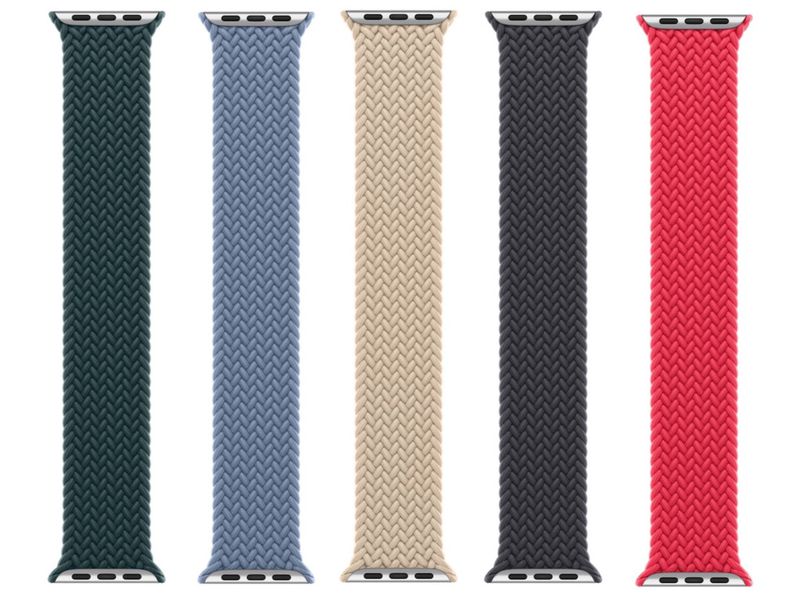 Apple says the soft, textured feel of the band is sweat and water-resistant, plus ultra-comfortable to wear. The Braided Solo Loop is one of Apple's more expensive band options at $99, and the same sizing caveats apply to the Braided Solo Loop.
Sport Band
Apple's Sport Bands are some of the company's lightest, most comfortable bands, made from a flexible and lightweight fluoroelastomer. Because they're ideal for use when exercising or engaging in vigorous activity, most of Apple's aluminum watches ship with Sport Bands. Pricing starts at $49 for the Sport Bands.


Sport Loop
Designed to be soft, breathable, and lightweight, the Sport Loop is made from fabric that wraps around the wrist for a tight but comfortable fit.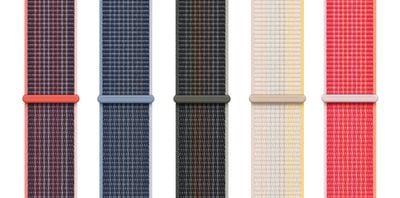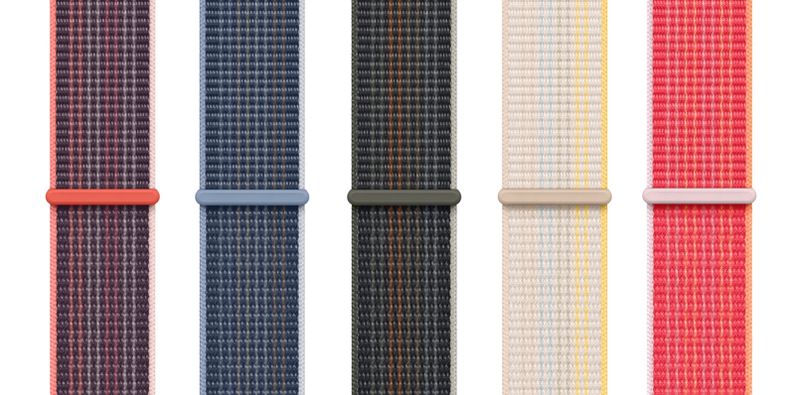 It's made from a velcro-like double-layer nylon and comes in a range of colors, with Nike-branded Sport Loops also available. The 41mm version fits wrists sized 130 to 190mm, while the 45mm version fits wrists sized 145 to 220mm. Apple charges $49 for the Sport Loop.
Nike Band
The unique perforated Nike Apple Watch bands that come with Nike watches are also available for purchase on a standalone basis.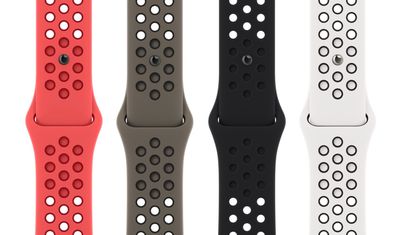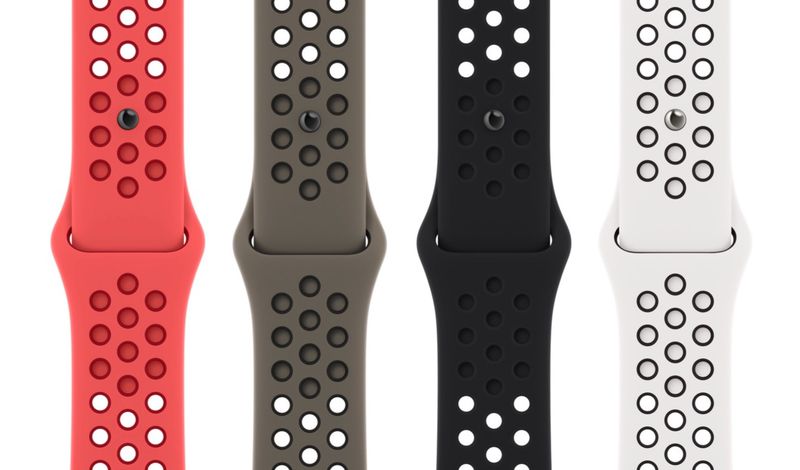 Nike bands are made from a high-performance fluoroelastomer and are available for both 41mm and 45mm Apple Watch models, plus Apple sells Nike-branded Sport Loop options in unique colors. The bands fit wrists sized 130 to 200mm. Nike Bands are priced at $49.
Milanese Loop
The stainless steel Milanese Loop, available in 41mm and 45mm sizes, is a flexible metal mesh band that wraps around the wrist. It's made of such a fine metal material that it's comfortable to wear all day long, and it's surprisingly lightweight.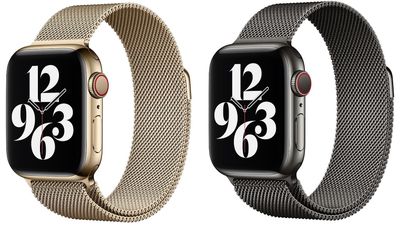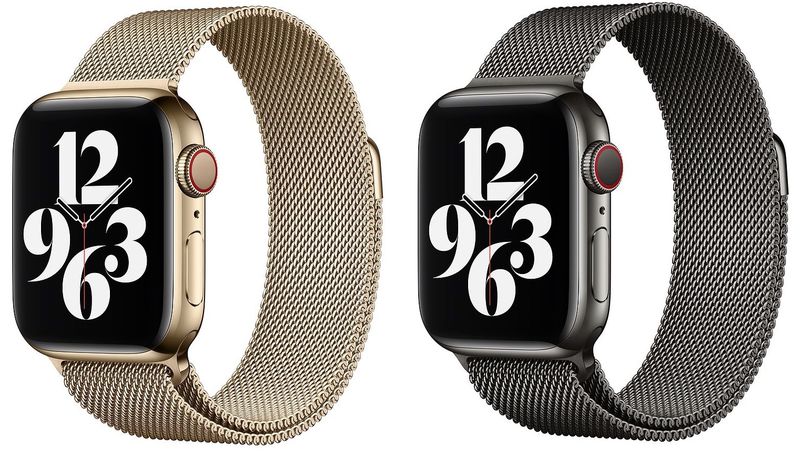 The Milanese Loop is priced at $99, and it comes in silver, gold, and space black.
Leather Link
The Leather Link features a two-piece design that doesn't involve a loop. The Leather Link is made from Roux Granada leather sourced from France, and it has flexible, molded magnets that wrap around the wrist for a comfortable fit.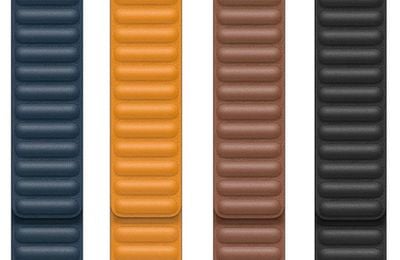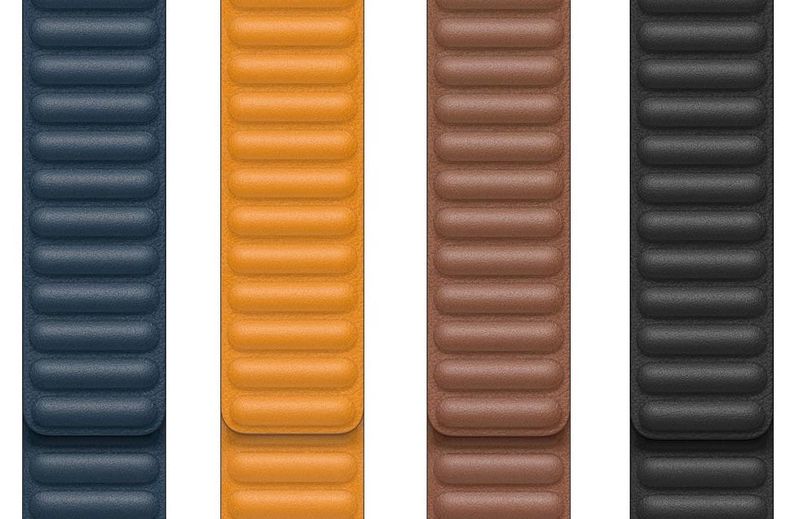 The Leather Link fits both 41 and 45mm models. It comes in small/medium and medium/large and fits wrists sized from 130 to 180mm.
Modern Buckle
The Modern Buckle, made from supple Granada leather, is a band that's designed to work with the smaller 41mm Apple Watch models. It features a two-piece magnetic buckle and an inner layer of Vectran weave for strength and scratch resistance.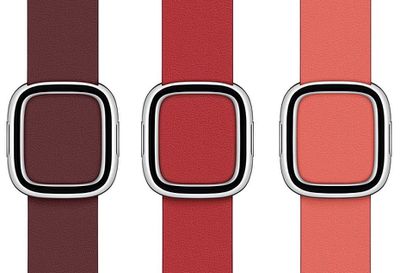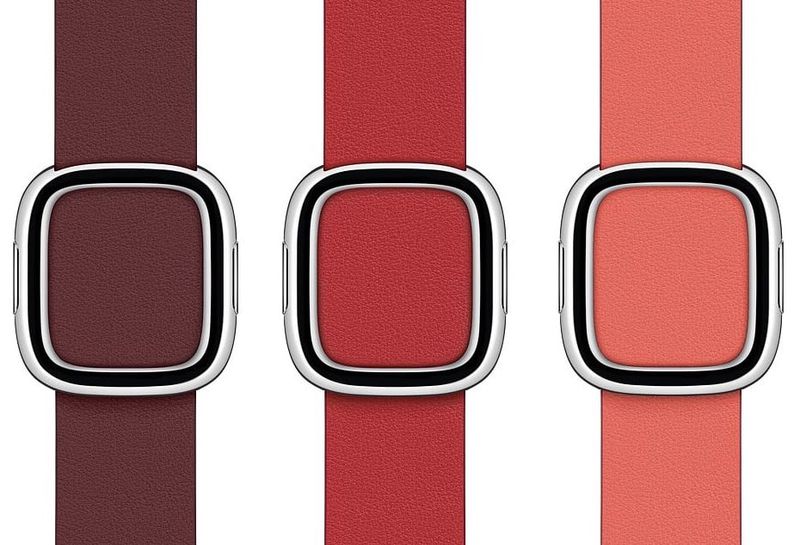 Link Bracelet
The 316L stainless steel alloy Link Bracelet, available in 41mm and 45mm sizes, is Apple's most expensive band made in-house. Available in silver ($349) and space black ($449), the Link Bracelet resembles a high-quality traditional watch band.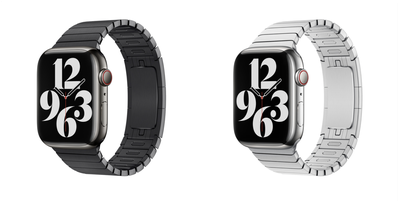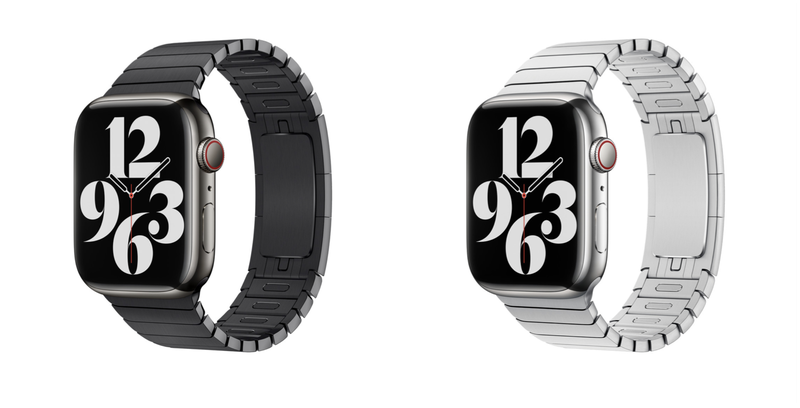 The 41mm model fits wrists sized 135 to 195mm while the 45mm model fits wrists sized 140 to 205mm. A 6-link add-on kit expands its size from 205mm to 245mm for an additional $49.