As Google gears up to unveil its second-generation Pixel Watch on October 4, alongside the Pixel 8 and Pixel 8 Pro, there's more to the story than just the watch itself. While Google has remained tight-lipped about most of the changes between the original Pixel Watch and the Pixel Watch 2, recent revelations shed light on potential accessories that could accompany the new wearable.
One notable accessory is the Milanese strap, which Google initially showcased last year but never officially released. This sleek and stylish watch band may finally see the light of day, though its pricing remains a mystery. Google had originally listed it for $129.99, offering users a premium option to complement their smartwatches.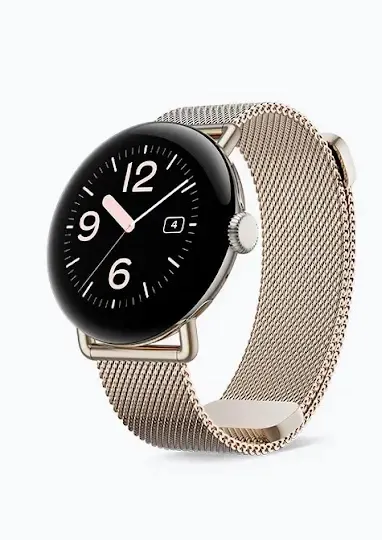 Another accessory making waves is the Metal Slim band, which was mentioned in documents from the FCC last month in relation to the Pixel Watch 2. While details about its cost are still under wraps, it's worth noting that Google priced its first-generation metal watch bands at $199.99, indicating that it might offer another premium option for users looking to personalize their devices.
Pixel Watch 2 specs & features
As per previous leaks, the upcoming Pixel Watch 2 from Google is said to feature a Snapdragon W5 Gen 1 chipset, offering better performance and increased power efficiency compared to its predecessor. This change hints at improved battery life, even with a modest 4% increase in battery capacity, now at 306mAh.
While the original Pixel Watch faced criticism for its chunky bezels, the Pixel Watch 2 will maintain a 1.2-inch OLED panel with a 384 x 384 resolution. However, the display is now supplied by Samsung, potentially enabling battery-saving features and enhanced brightness.
Running on Wear OS 4 based on Android 13, the Pixel Watch 2 promises seamless updates, a first for smartwatches. Updates will occur in the background and activate once the device is rebooted, although this may occupy more storage.
One standout feature is the addition of Ultra-Wide Band (UWB) technology via an NXP SR100T UWB module. UWB is useful for precise device-finding, aiding users in locating misplaced gadgets. It also enables the Pixel Watch 2 to function as a Digital Car key, compatible with several major automobile brands.
RELATED:
(Source)