When shopping for a smartwatch, there are so many to choose from that it can be overwhelming at times. There are several important factors you're going to want to consider before you drop any amount of money on a wearable – after all, you're probably going to be wearing the device every single day.
When considering which smartwatch is best for you, you'll probably look at the operating system, battery life, applications, features, and arguably two of the most important factors: comfort and fit. While most smartwatches are designed for anyone to use and not gender-specific by any means, a lot of popular smartwatches can be too bulky and are designed to fit the average man's wrist. However, with women in mind, we've found some of the best smartwatches for comfort, fit, and dedicated women's health features.
Sleek smartwatches designed with women in mind

Samsung Galaxy Watch 6

Best overall
Top choice for Android users
The Samsung Galaxy Watch 6 is a refined upgrade of the Galaxy Watch 5, placing emphasis on comfort and fit. Along with a durable glass screen, extended battery life, and extensive tracking features, the Galaxy Watch 6 outshines its predecessor in many ways.
Pros
Longer battery life
Larger display
Slimmer design
Cons
Minor upgrades from Galaxy Watch 5
Expensive
The Samsung Galaxy Watch 6 is refined from the Galaxy Watch 5 to specifically target a more comfortable fit for users. As many women already know, finding the right smartwatch that fits properly can be a struggle, but the Galaxy Watch 6 makes this a top priority, ensuring more accurate readings by the sensor and a proper fit around the wrist. You're also going to get a quality build, using a sapphire crystal glass display for increased durability and a much improved larger battery to keep you going all day long. While these upgrades may seem minor to some, for many Galaxy Watch users, these are exactly the upgrades we've been asking for.
The Galaxy Watch 6 also includes a handful of useful applications and a ton of fitness tracking features to help you stay on top of your health and fitness. You can also take advantage of the in-depth sleep tracking and sleep coach to ensure you're getting the most out of your sleep. The Galaxy Watch 6 is a premium smartwatch at an affordable price — and with the color options to choose from and the availability of additional bands, you're always going to find something that feels great and looks great too.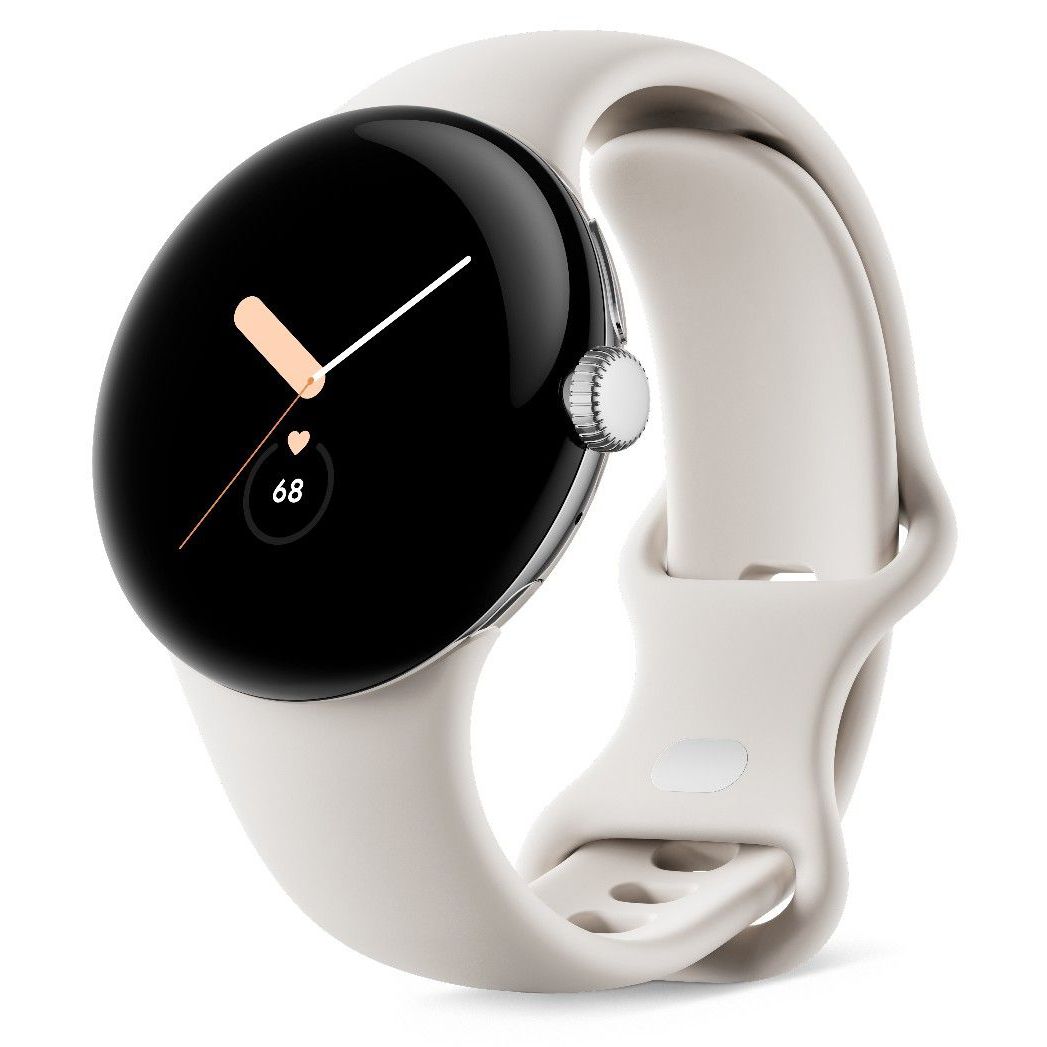 Source: Google
Google Pixel Watch

Premium pick
Google and Fitbit power combo
$290 $350 Save
$60
The Google Pixel Watch is a powerhouse of a smartwatch that combines the best applications Google has to offer, plus the reliable fitness tracking and reading of Fitbit. Designed with a soft and comfortable fit, and multiple color options to choose from, the Pixel Watch is a favorite among women.
Pros
Fitbit Integration
Great performance and tracking
Super bright AMOLED display
Cons
Poor battery life
Proprietary bands
No support for 5G eSim
The Google Pixel Watch is the first smartwatch Google has released, and it made waves almost immediately. Thanks to its sleek and stylish design and availability in multiple colors, the Pixel Watch has become a favorite among many women. In addition, the soft material of the in-box bands is so comfortable and fits properly around the wrist so that the sensors have no problems with readings and accuracy. The proprietary bands aren't the only option either, with more and more third-party bands available all the time. The Pixel Watch is also built with a Corning Gorilla Glass display and is water-resistant up to 50 meters, making it designed to keep up with all sorts of activities.
The Pixel Watch uses Wear OS by Google to run this small but powerful smartwatch. And because Google now owns Fitbit, you get the bonus of a free six-month membership of Fitbit Premium with the purchase of this device. Other features like contactless payment with Google Wallet, smart assistant integration with Google Assistant, and GPS tracking with Google Maps make this Google-centered smartwatch an absolute powerhouse of a device.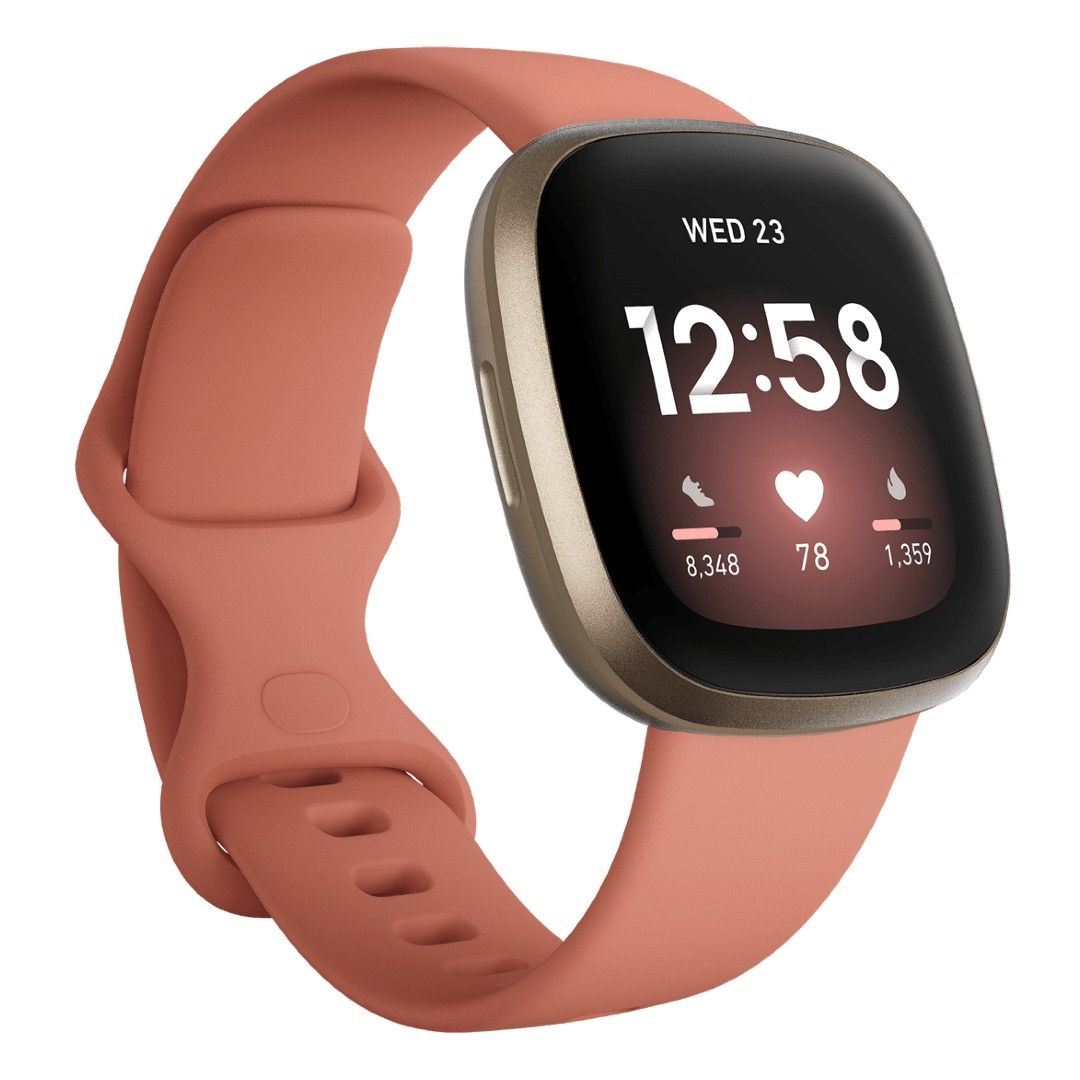 Fitbit Versa 3

Best value
Fitness tracker meets smartwatch
The Fitbit Versa 3 is a fitness tracker smartwatch giving users the best of both worlds. With advanced tracking and health sensors built-in, users receive important real-time information pertinent to their health. The Versa 3 is also smaller and less bulky than most smartwatches, making it an ideal fit for many women.
Pros
Fast-charging option
Changeable watch faces
Built-in GPS
Cons
Limited apps
Lacks certain sensors
No buckle straps
The Fitbit Versa 3 is a classic smartwatch option for users who want to get the most out of their health and fitness regimens. Available in three different colors, Fitbit has even included a beautiful female-friendly pink/gold color option that is absolutely stunning. The watch isn't overly big or bulky and fits nicely even on small wrists. While the Versa 3 isn't the latest Fitbit device, it still beats out its newer counterpart the Versa 4 by offering up a broader selection of apps and downloadable watch faces.
The Fitbit Versa 3 also includes a plethora of fitness tracking features and health sensors to keep you informed and on top of all things health-related. Not only does the Versa 3 offer quality tracking, but this do-it-all smartwatch comes with a built-in GPS, text and call notifications, music streaming, and assistant integration with Alexa and Google Assistant. Users can also choose from a handful of third-party apps to download directly to your watch. If that's not enough, the Versa 3 can last up to six days on a single charge. And for the low price of $150, you really can't go wrong with this budget-friendly smartwatch.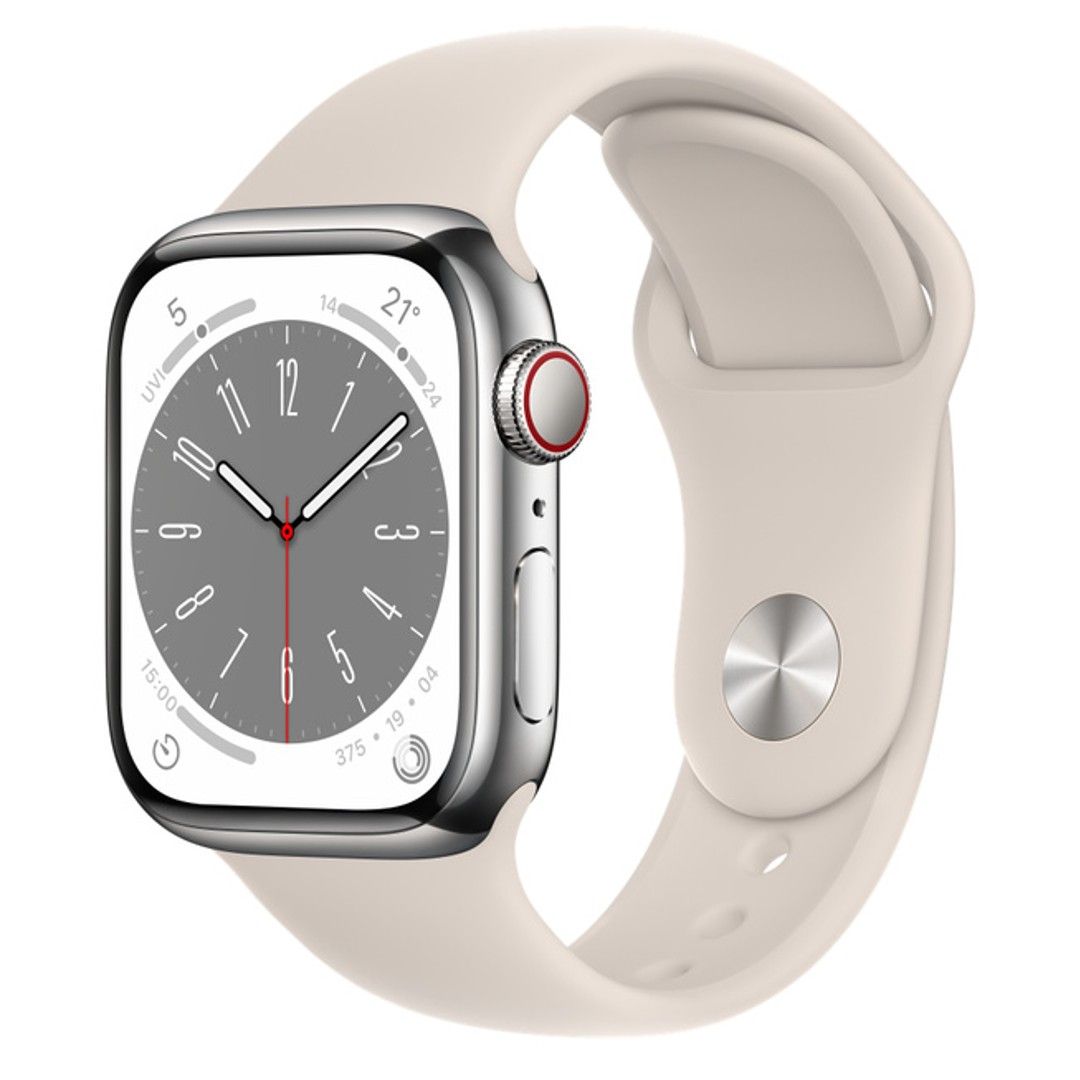 Source: Apple
Apple Watch Series 8

Best alternative
Best among Apple and iOS users
$329 $399 Save
$70
The Apple Watch Series 8 is an iOS-compatible smartwatch geared towards iPhone users, with seamless compatibility for all things Apple. With a handful of design, color, material, and size options, users will have no problem finding the perfect look and fit for them.
Pros
Quality display and design
Crash and fall detection
Low-power mode
Cons
Won't work with an Android phone
Limited temperature sensor
Minor upgrades from Series 7
Of course, we love all things Android, but we do have to recognize a good smartwatch when we see one, and the Apple Watch Series 8 is a favorite for good reason. Thanks to the smooth integration with all things Apple, your smartwatch can be used to unlock your Mac, find your devices, and pay virtually with Apple Pay. That's just the tip of the iceberg, though remember that none of this applies if you're an Android phone user – the Apple Watch is strictly iPhone-only.
The Apple Watch Series 8 is built to last. With a crack-resistant display, dust resistance, water resistance, and swim-proof ratings, it can accompany you just about anywhere. You also get access to a huge variety of apps, in-depth health sensors, and fitness tracking. And two of the best features of the Series 8 are Crash Detection and Fall Detection; they automatically detect vehicle accidents and falls and then contact appropriate emergency personnel, giving users an added sense of security.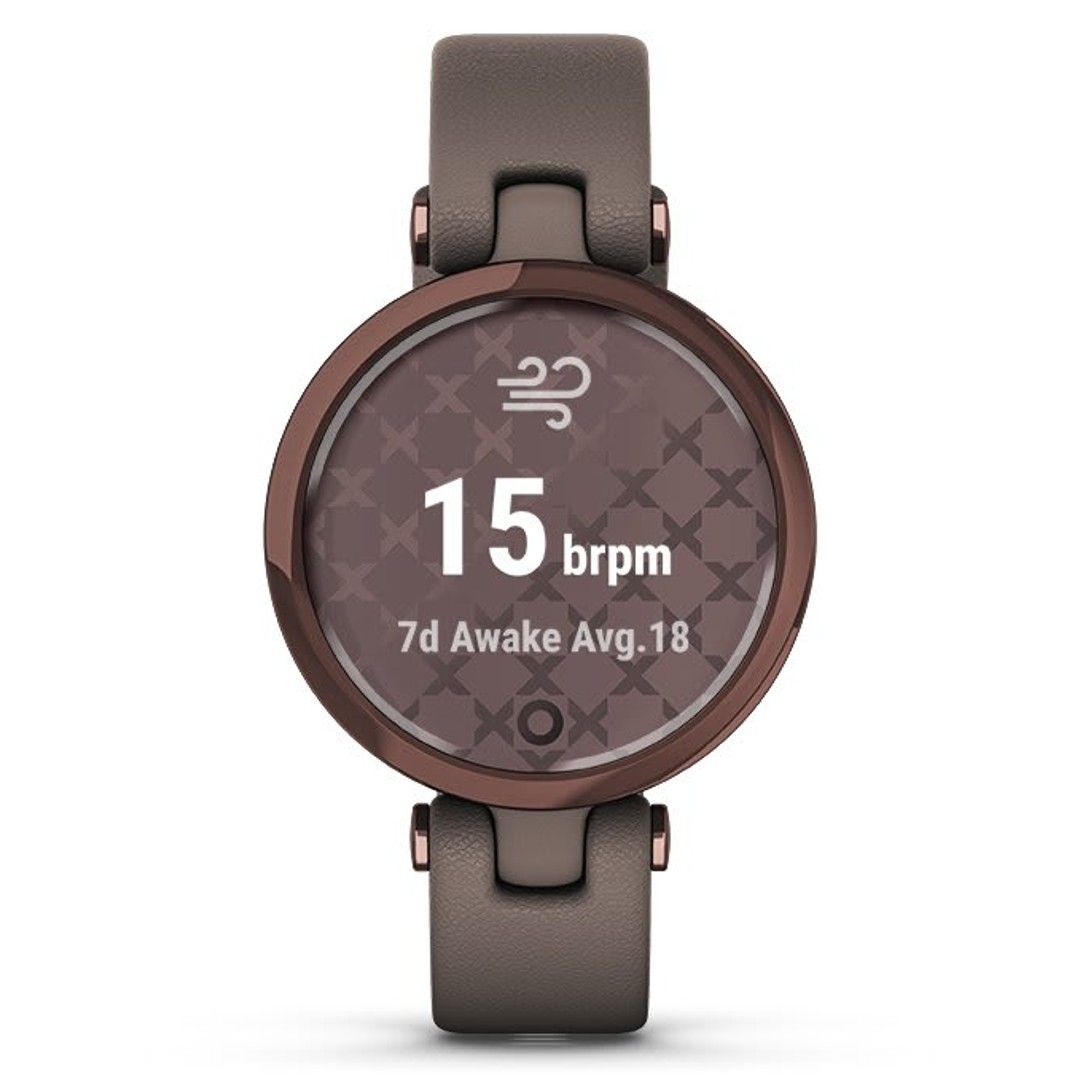 Garmin Lily

Sophisticated style
Perfect for small wrists
The Garmin Lily features a small, sophisticated style with various designs and colors to match every look. This simple yet elegant smartwatch offers many useful features and apps, including some safety and security integrations that are not even available in some of the most mainstream devices.
Pros
Small and lightweight
Pregnancy and ovulation tracking
5-day battery life
Cons
No color display option
No storage for music
Limited features for price
The Garmin Lily offers one of the best smartwatches designed specifically for women. This small and stylish smartwatch is made for those with smaller wrists, and it features a smaller touchscreen display than most, so nothing sticks out or seems out of place. With a variety of colors to choose from, including different bands and materials, you can essentially build the perfect watch design for you. In turn, you are giving up a color display which may be a deal breaker for some.
The Garmin Lily includes almost all the necessary fitness tracking and health sensors you would need, and then some. You can also connect to your smartphone to receive calls, texts, and calendar notifications and reminders, so you're never out of the loop. What's unique about the Lily is that you can enable an assistance feature similar to Apple's Crash and Fall detections, and you can allow friends and family to track your location and outdoor activities with LiveTrack.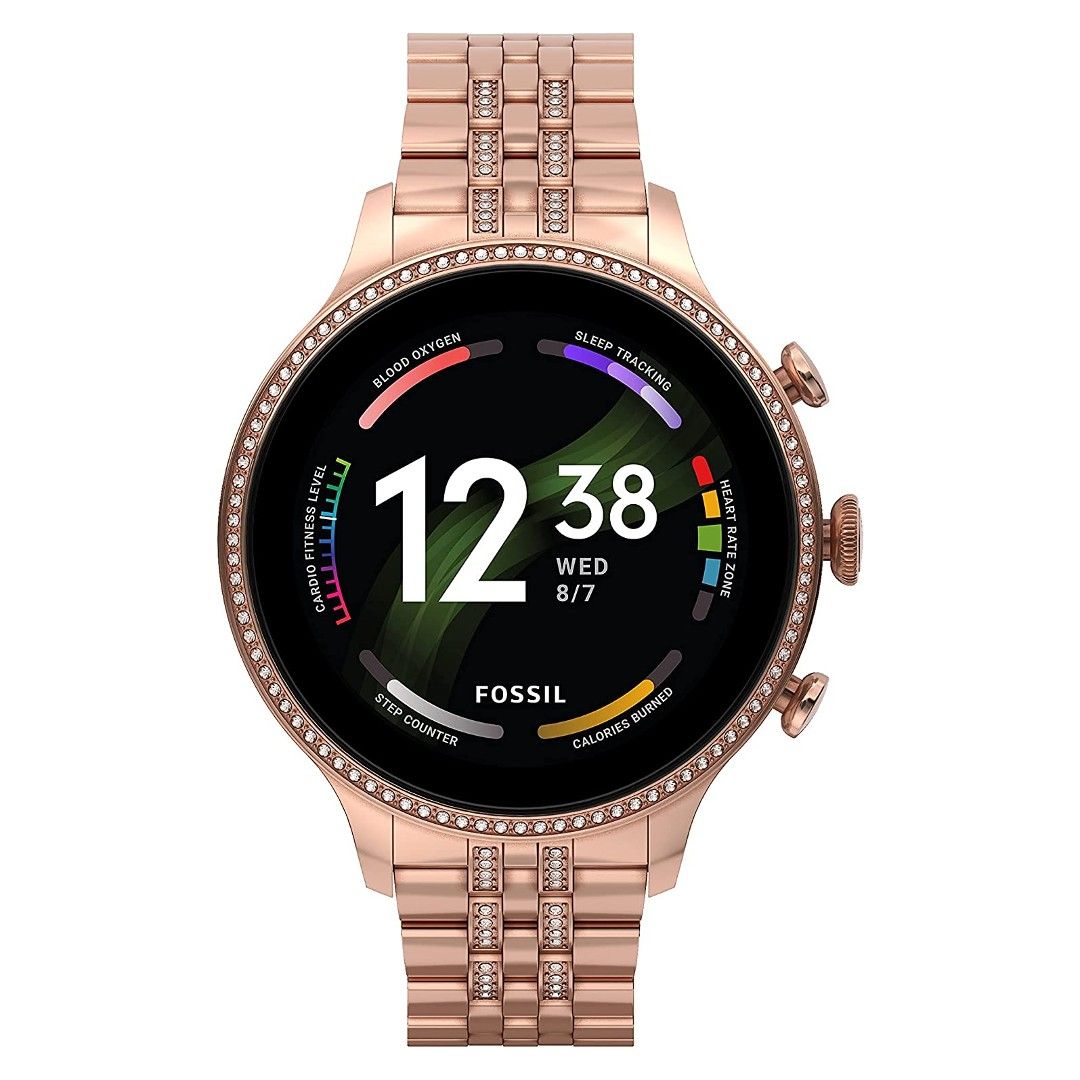 Fossil Gen 6

Deluxe design
Premium craftsmanship
$219 $319 Save
$100
The Fossil Gen 6 uses Google's WearOS and a Qualcomm 4100+ chipset to provide users with improved performance and an increase in power. Designed with a built-in speaker and microphone, the watch allows you to take advantage of the integrated Alexa assistant. Plus, you can make and take calls directly from the watch.
Pros
Full-color, always on display
Accurate sensors and tracking
Smooth and easy navigation
Cons
Buttons get in the way
Not for swimming use
Shorter battery life
The Fossil Gen 6 combines the beautifully classic design of its Fossil watches with Google's WearOS to give users a stunningly lavish smartwatch. This smartwatch looks incredible with its diamond-studded metal link band, and its adjustability lets users with even the smallest wrists enjoy high-class fashion. The Gen 6 uses a Qualcomm 4100+ chipset, increasing power and performance, as well as an improved Bluetooth range for easy connectivity with the built-in Alexa assistant.
The Fossil Gen 6 tracks a handful of important health and fitness data and can even track activities with GPS to show you the total distance and mapped-out routes taken. The always-on display uses more colors and a higher pixel count for its bright and brilliant display, and you can choose from thousands of watch faces for a more personalized look. You can also choose from over a hundred different apps to download on the smartwatch, and with an optimized battery, and smart battery modes, you'll be able to use your watch all day long. The only real downside to this smartwatch is you can't take it swimming, but for how beautiful it is, you wouldn't want to anyway.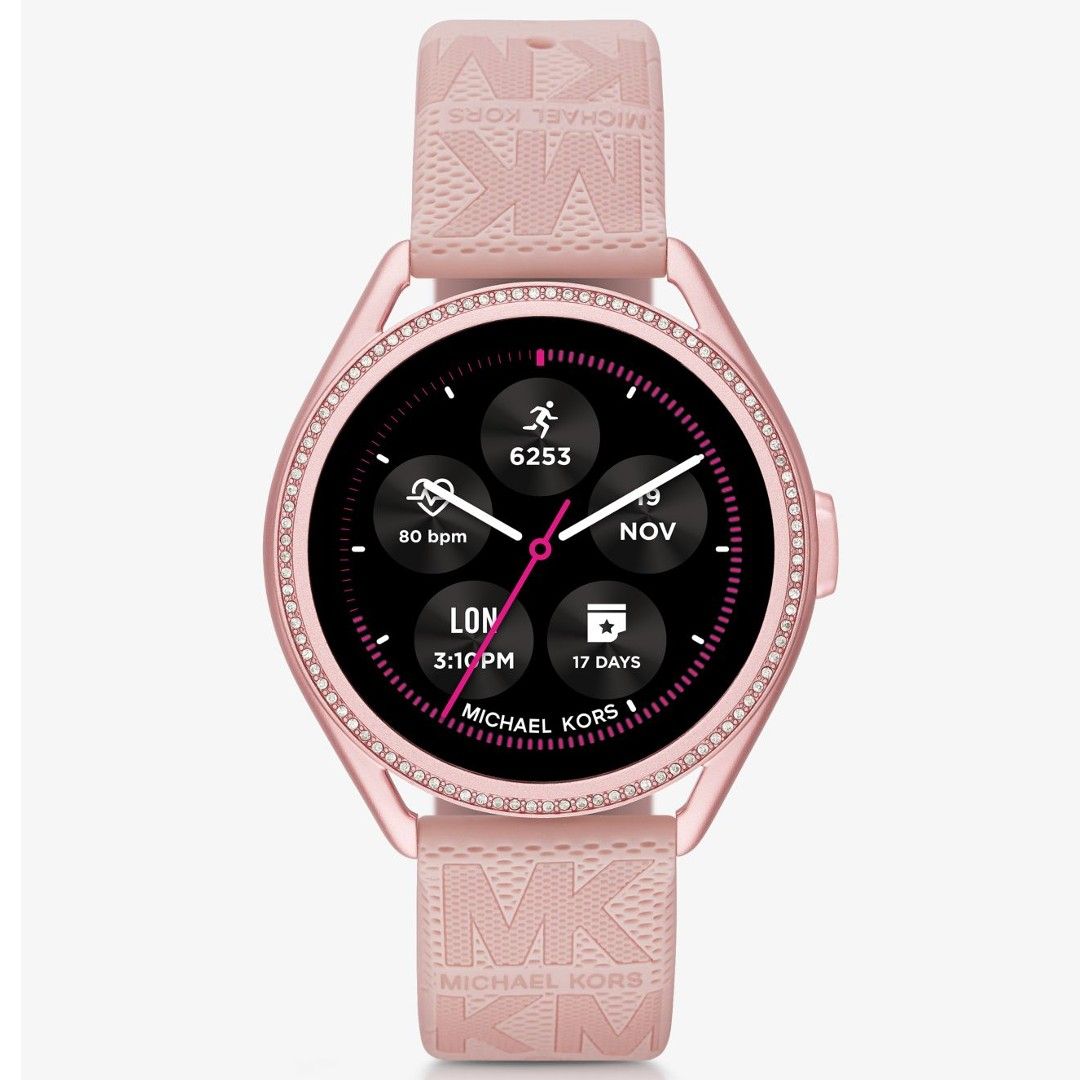 Michael Kors Gen 5E MKGO

Luxury brand
Top-quality fashion
The Michael Kors Gen 5E MKGO is a beautifully designed luxury brand smartwatch for women who want to show off a higher sense of style. Less heavy-duty and bulky than traditional watches, the Gen 5E features a high-quality watch face with a lightweight branded silicone band.
Pros
High-quality, durable, and lightweight
Independent music player
Water-resistant for swimming
Cons
No built-in GPS receiver
Spotty iPhone compatibility
Less fitness-focused
The Michael Kors Gen 5E MKGO rocks a look similar to the Fossil Gen 6 but omits those tacky side buttons that tend to get caught on anything, including your own hair. The watch face is beautifully diamond studded and uses a much lighter silicone band rather than a heavy-duty metal link band to keep it from weighing down your wrist. The size is also easily adjustable for the perfect fit.
The Michael Kors watch runs on Google WearOS for both Android and iOS — though iPhone users have reported some issues, it may be best suited for Android. The high-powered battery can last over 24 hours; with the extended battery mode, it can last even longer. The always-on display is bright and colorful, and you can choose from hundreds of different watch faces for a different look all the time. The Gen 5E also has a pretty sizable list of applications to download and includes a built-in GPS. Best of all, this luxury brand smartwatch is swim-proof, keeping up with every activity.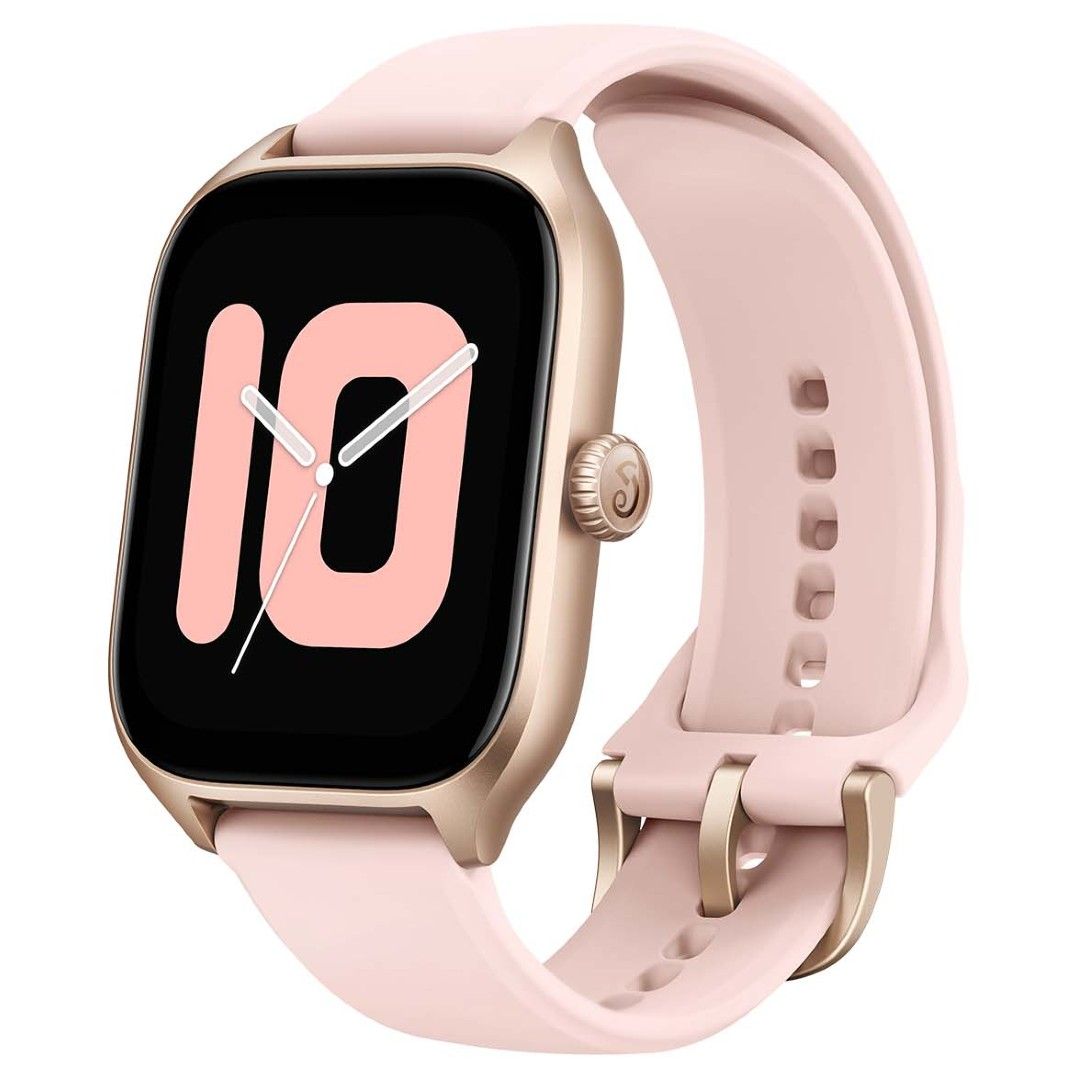 Amazfit GTS 4

Hybrid smartwatch
Feature-heavy, lightweight material
$160 $200 Save
$40
The Amazfit GTS 4 is so much more than a fitness tracker. This lightweight smartwatch with a large display is crafted with quality and style in mind. It's available in two lighter, more feminine colors and one gender-neutral design. With solid internal components and extensive features, the GTS 4 is great from the inside out.
Pros
Long-lasting battery
Quality hardware
Quick performance
Cons
Convoluted app interface
Shaky activity and sleep tracking
Lacks support for third-party apps
The Amazfit GTS 4 is a do-it-all fitness tracker/smartwatch hybrid device packed with features you didn't even know you needed. This bright and beautiful device is a bit more on the larger side than the Garmin Lily and takes a page from Apple's Series 8 design to create this super-powered smartwatch. This device's thin and lightweight build is partly thanks to the ultralight aluminum alloy frame that keeps it from being too heavy and weighing down your wrist.
The Amazfit GTS 4 uses an industry-first GPS antenna for strong positioning and allows for real-time navigation right on the watch face by uploading route files to the Zepp App. The built-in speaker lets users broadcast live sports data relative to workouts directly on the watch or via Bluetooth headphones. The speaker also supports a built-in integration with the smart assistant Alexa for all things hands-free. Unfortunately, the Zepp app is the only app compatible with this smartwatch, and users have reported it to be less than reliable at times; still, it's a standup choice.
Smartwatches for different lifestyles

As smartwatches continue to increase in popularity, more old-school analog watch users are making the leap to the smarter choice. When deciding which smartwatch to purchase, however, you're going to be faced with an extensive list of factors to consider.
While the operating system and compatibility with your smartphone should be a top consideration, you also want to think about how you're going to use the smartwatch; basing your smartwatch choice on your lifestyle allows you to get the most out of your device without spending extra on unnecessary features you won't use. All things considered, the best smartwatch for women is the best smartwatch for your lifestyle.
The Samsung Galaxy Watch 6 is easily the best overall pick, offering all users an opportunity to experience the best of Samsung's take on Wear OS. With an upgraded battery, improved durability, and optimized fit, the Galaxy Watch 6 has a lot to offer loyal Galaxy Watch users or new converts. Whether upgrading from its predecessor, switching from a different brand, or starting out with your first smartwatch, you can't go wrong with the Samsung Galaxy Watch 6.
If the Galaxy Watch hasn't grabbed your attention enough, the Google Pixel Watch is sure to be everything you're looking for and more. This premium smartwatch outshines its competitors in many areas, while still keeping in line with a relatively affordable price. If premium hardware and extra applications are a bit too exorbitant for your lifestyle, the Fitbit Versa 3 comes in clutch with a reliable, durable, and long-lasting fitness-focused smartwatch of its own. With unique features, the Versa 3 is more affordable than most smartwatches while not compromising on crucial elements such as battery life and durability.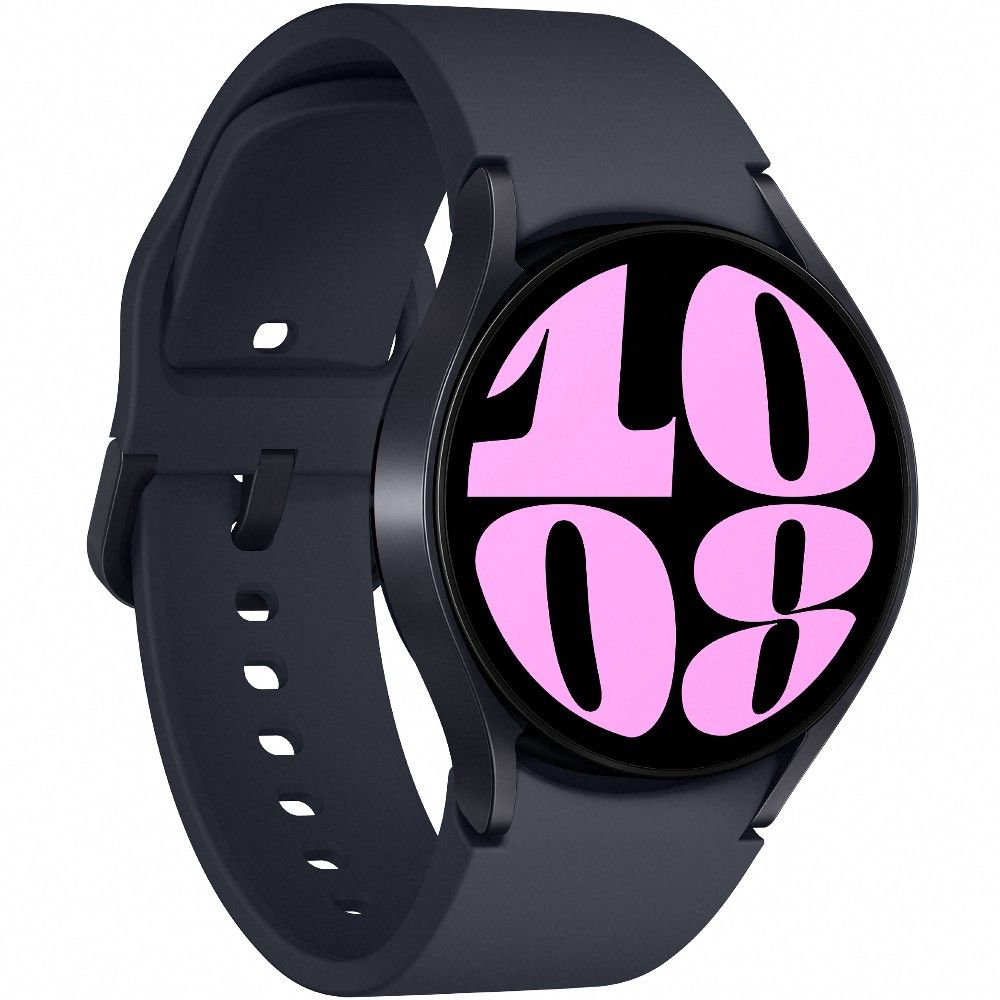 Source: Samsung
Samsung Galaxy Watch 6

Best overall
Top choice for Android users
The Samsung Galaxy Watch 6 is the best smartwatch right now, period. With a more powerful chipset, display upgrades, and better battery life, this is the smartwatch to buy no matter your gender.